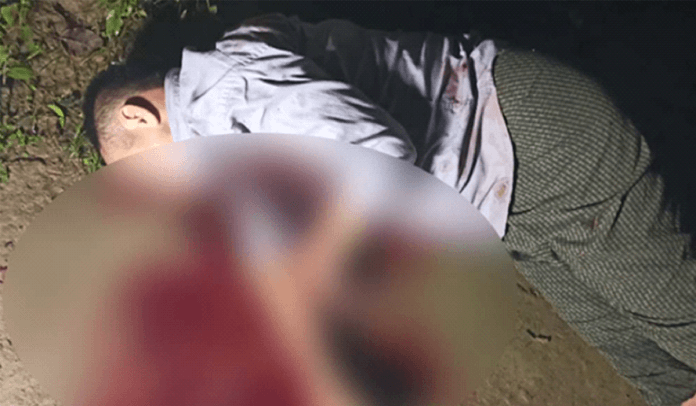 Hill Voice, 2 September 2020, Bandarban: Unidentified terrorists shot dead a young man entering the house at Baghmara Bazar area of ​​Rajvila Union in Bandarban Sadar Upazila. The incident took place on 1 September 2020 Tuesday at around 7.30 pm. The deceased was identified as Mongsiu Marma (40). Bandarban Sadar Police recovered the body of Mongsiu Marma at around 9:30 pm.
According to the local sources, a group of ALP and army-backed Reformist group demanded an extortion of Tk. 3 lakh from Mongsiu Marma. It is learnt that they threatened to kill him if he did not pay the extortion. Mongsiu Marma was shot dead last night when he refused to pay extortion.
The locals also said that the deceased was not a Juba League activist at all. The claim of the deceased as a Juba League activist by local Union Parishad chairman is being made in the hope of gaining the support of the ruling party and to harass the activists and supporters of the Jana Samhati Samiti in a political case.
The main incident took place at around 7.30 pm yesterday in Chingkyew Para, one kilometer away from Baghmara Bazaar. Mongsiu Marma was later found shot in his home. The locals were terrified by the suddenness of the incident. Many left home and moved to safe place. Baghmara Bazar in Rajvila Union is located on the banks of Noapatang Canal, 15 km from the district headquarters.
OC of Bandarban Sadar Police Station Shahidul Islam Chowdhury said Mongsiu Marma was killed on the spot. This is pre-planned murder. Autopsy of the body is being made. It was not immediately clear who killed him. Details will be known in the investigation after the case.