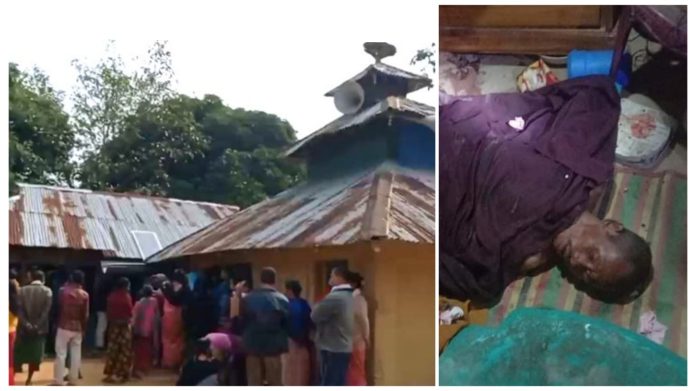 Hill Voice, 31 January 2022, Khagrachari: A Buddhist monk named Bishuddha Mahathero (52) was killed by miscreants in Gugrachari of Khagrachari. The deceased was identified as Bishuddha Mahathero, principal of Gugarachari Dharmasukh Buddhist Temple. He was alone in Bihar at that time.
The incident may have taken place at midnight on Sunday (January 30, 2022), police said.
Today, Monday (January 31) morning, a woman from the village came to give chhowing (food) and saw the Buddhist monk lying in the monastery. Later the villagers came to know about the matter and informed the police.
Later, Khagrachari Sadar police recovered the body of the Buddhist monk from Dharmasukh Buddhist monastery in Gugrachari.
According to the locals, Ven. Bishuddha Mahathero used to stay alone in Bihar in the night. He was alone last night (Sunday). Taking advantage of this opportunity, the miscreants killed him. At that time, the miscreants took his money and mobile phone.
Locals have demanded a proper investigation into the killing of the Buddhist monk and arrest and punishment of the killers.
Officer-in-Charge (OC) of Khagrachari Sadar Police Muhammad Rashid said unidentified miscreants hacked a Buddhist monk to death and hit him on the head at midnight on Sunday. There are marks of injuries on his body. The culprits will be found out after investigation. Police have sent the body to Khagrachari District Sadar Hospital for autopsy.