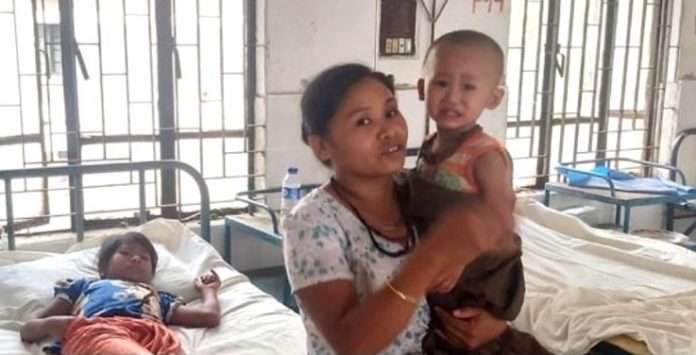 Hill Voice, 5 April 2020, CHT:  After the Sajek of Rangamati, Lama and Ruma of Bandarban and Merung Union of Khagrachari, this time, four Marma children were found in Sadar Union of Thanchi upazila of Bandarban district and 11 children in Logang union, Ultachhari union and Latiban union in Panchari upazila of Khagrachari district infected with measles.
It is reported that on 1 April 2020 noon, the guardians of three children from Tonkhyong Para and Headman Para of Thanchi Union brought their children to Thanchi Upazila Health Complex while the children were infected with measles.
The three children affected by the measles are – (1) Umong Prue Marma, 2-year-old, son of Chhomong Marma, resident of Tonkhyong Para of Ward No 3 of Thanchi Sadar union; (2) Umya Sain Marma, 9-year old and 3rd grade student, daughter of Thowaising Mong Marma, resident of Headman Para of Ward No. 3; (3) one and half year-old son of Sunai Mong Marma, resident of Headman Para of Ward No. 3.
It is reported that cold fever, runny nose and rash on body of Chhomong Marma's son in Tonkhyong Para were seen. While getting critical, then they were taken to Thanchi hospital on Wednesday after walking the road about 8 km from the village.
Meyong Sing Marma, mother of a baby infected with measles in Usamong Headman Para, told that the hospital authorities immediately sent an ambulance while they phoned to the hospital's hotline number and then the child was brought to the hospital.
Three children are currently undergoing treatment at the hospital. All three children are well, hospital sources said.
Hospital sources also reported that a few days ago, a child of Usamong Headman Para was found infected with measles and brought him to hospital. At the end of the measles treatment, the child was again infected with diarrhea and fever. However, the parents took the child home after the child recovered.
It is learnt that the measles attacks have caused panic in Thanchi in the wake of the ongoing lockdown to prevent coronavirus.
On the other hand, 11 children of 6 villages were reported to have been infected with measles in Ramtanu Para, Khedarachhara and Dinabandhu Para of No. 1 Logang Union, Rahindra Para and Moratila of No. 5 Ultachari union, and Gangaram Para of No.4 Latiban union in Panchari Upazila of Khagrachari district.
Local volunteers were reported to have witnessed the attacks in measles in the said areas of Panchari upazila on 4 April 2020, while they went there for raising awareness about the coronavirus and providing food assistance.
Source: Prothom Alo