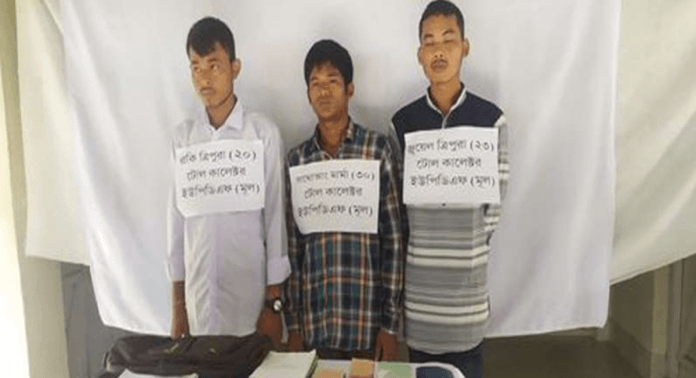 Hill Voice, 7 October 2020, Khagrachari: It has been alleged that three Jumma youths have been arrested by the army in Ramgarh in Khagrachhari district. They were arrested from Nanel Para in Garukata area of ​​Ramgarh on 6 October 2020 Tuesday night.
The arrested are Subel Tripura Sajal (25), son of Sabi Kumar Tripura of Jarichandra Para in Ramgarh; Sathoiang Marma (28), son of Uhla Marma of Antu Para in Ramgarh and Jewel Tripura (28) of Rajendra Karbari Para in Dighinala.
According to local sources, A group of army members led by the commander of the Batnatali camp under Sindukchhari army zone, Capt. Md. Wali Ullah raided Nangel Para. The army cordoned off the house of Anil Chakma, a resident of the area and searched it and arrested the three persons who were staying there.
Anil Chakma, the owner of the house, and his son Suben Chakma were allegedly beaten by the soldiers at the time.
After the arrest, the three youths were taken to the camp and subjected to physical torture. It is learnt that they were handed over to the Ramgarh police on Wednesday, 7 October at noon along with a broken LG gun.